Osha Compliance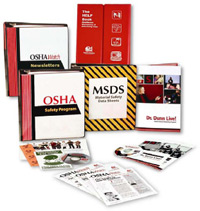 Our MediSafe OSHA Compliance Program is designed specifically for the healthcare industry.
Are you aware medical OHSA inspectors have the authority to fine you up to $70,000 on the spot for non-compliance?
Do You Know:
What you will do if an OSHA inspector visits your office unannounced?
Your rights?
The fundamentals of employee training?
How to keep adequate and accurate records?
Are you aware of exposure determinations?
OSHA Compliance Program
Everything a medical or dental practice needs for easy, stress-free OSHA compliance. See reverse for product details.
Online Training Courses
For OSHA Safety Administrators:
Administering Your OSHA Program
Evaluating and Selecting Safety Sharps
For Employees:
Annual OSHA Retraining - Covers OSHA's Bloodborne Pathogens and Hazard Communications Standards, required for every healthcare employee
Basic OSHA Training - For employees new to the healthcare industry
New Employee OSHA Orientation - For those who have had previous OSHA training, but are new to the facility
Preventing Workplace Violence in Ambulatory Medical and Dental Facilities - To help employees prevent violent behavior in others and to respond to violent situations
Fire Safety - For annual employee training, covers fire extinguishing (A.R.A.C.E., P.A.S.S.) and building evacuation
Ergonomics for Ambulatory Medical And Dental Facilities - Identifies the most common ergonomic stressors (i.e. back/neck; eye strain; Carpel Tunnel Syndrome; computer work stations; lifting/moving patients) and demonstrates techniques to avoid injury
Respiratory Infection Control: Influenza and TB
Three cost effective turnkey programs to guarantee medical OSHA compliance for every medical and dental office.
Products & Services

Silver

Gold

Platinum

OSHA Safety Program Manual
Policies and procedures for all OSHA regulations that apply to medical practices organized under 12 tabbed sections, copies of the regulations, forms and a CD-ROM to customize them into MS Word, OSHA-compliance checklist and more.

Bloodborne Pathogens Exposure Control Plan
The basis of your facility's OSHA compliance plan, including safety sharps requirements included in Manual above.

Material Safety Data Sheets Binder
With a master hazardous substance list and A-Z alphabetized tabs.

OSHA Compliance Checklist for facility self-audit

OSHA Annual Retraining DVD

1 Year Subscription to OSHA Watch Newsletter
To keep your OSHA Manual up-to-date

The HELP Book: Healthcare Emergency & Lifesaving Plan

Access to Toll-Free Technical Assistance

Access to Online (computer based) Training *
See comprehensive list of courses on reverse

**

***

On-Site Mock OSHA Inspection
Conducted by a Quality America OSHA expert

***

On-Site OSHA Annual Retraining
Conducted by Quality America OSHA expert

***

* Computer based training for up to 500 employees. Pricing will vary for organizations with 500 or more employees.




** For GOLD level subscribers, select one online training course all employees will take, a new course may be selected each year.




*** In lieu of the on-site inspection and retraining, PLATINUM level subscribers may select 5 online training courses per year for their employees. If online training is desired in addition to an on-site inspection and retraining, please call for pricing.